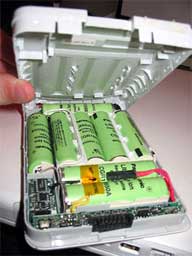 turns out i was mistaken when i thought that battery science was moving right along. wiredblogs reports a discovery that the ibook battery is . jeeeez guys, that's embarrassing!
however the hard drive scientists continue to squeeze more info into tiny crevices. Seagate just annouced the first . Its the first drive to use new "perpendicular recording" which allows for larger yet more efficient drives:
Standing bits on end also improves the reliability of read-write performance in demanding environments. The Momentus enhancements come without increases in power consumption or heat generation - crucial as remote users look to work longer between battery charges and system builders seek to pack more performance in smaller notebooks.
i think the "battery scientists" owe the "hard drive scientists" a round of beers for making them look like they're actually doing something good...
---